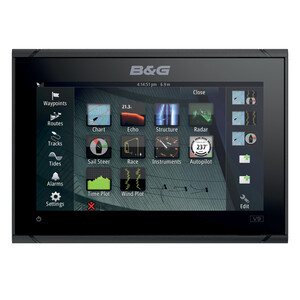 Vulcan 9FS Multi-function Display
Save
£
305.04
RRP
£
1,204.99
Optional Extras
Tick to add optional extras to your basket
Description
Videos
Availability
Size Guide
Delivery & Returns
Description
b&g Vulcan 9FS Multi-function Display
Spring Offer – Purchase a C-Map Max N+ Local, Wide or Continental Chart with this unit and get a further £200 off the combined package price. Simply add the plotter and chart to your basket and the discount will be automatically applied at checkout.
DOWN IN PRICE RRP £1204.99 WAS £999.95 NOW £899.95 - SAVE AN EXTRA £100 - WHILE STOCKS LAST
B&G Vulcan 9 FS: 9' Multifunction display. Super high-bright multi touch screen with built in NMEA 2000, GPS, Wi-Fi and ForwardScan (optional transducer required) . Integrates to 3G / 4G radar.
The B&G Vulcan9 FS Display is a powerful all-in-one Chart plotter and depth sounder for mid sized sail boats. Vulcan9 FS incorporates B&G's forward looking collision avoidance sonar technology for safe passage making in areas where chart accuracy is uncertain. Vulcan9 includes B&G 3G and 4G Radar support giving the user ultimate situational awareness for passage making at night and in poor weather. Vulcan9 will also connect to B&G sailing instruments and autopilot systems for a fully integrated electronics package. No physical buttons and low profile mounting options makes Vulcan9 one of the cleanest and most integrated looking navigation device for aftermarket installs. Combine this with an extensive set of advanced sailing software features inherited from it's bigger brother, the Zeus2, and the Vulcan 9 is the go-to standalone navigation display for the aspiring sailor.


Easy to use multi-touch user interface


Glass dash styling


Super bright widescreen display


Radar integration


Built in Wi-Fi connectivity


Built in 10 Hz, high sensitivity GPS antenna


Dual Micro SD card slots


Built in echosounder (Broadband & Chirp)


Built in ForwardScan sonar


Operates with ZC1 and ZC2 Remote controller


Advanced NMEA2000 networking


BEP C-Zone Integration


Fusion Link and sonicHub2 Audio Support


AIS SARTs


NMEA Data Logging


GRIB Weather support


H5000 system integration


SailSteer, Laylines with Sailing Time, WindPlot


Adjustable page split ratios and panel layouts


Best in Class Cartography support


Dedicated Sail & Cruise Features

With B&G's award-winning SailSteer™ function, you can see all of your key sailing data at a glance. View data together on one handy dedicated screen, or overlaid on charts for the modern sailor's ultimate navigational view. With the addition of sailing instruments and sensors via industry-standard NMEA 2000® networking, SailSteer evolves to show Boat Speed, Wind data, Heading, Tide, Wind Shift Sectors and even Laylines – enhancing the detail on SailSteer and chart screens. It's easy to add waypoints or plot a course; with B&G SailingTime you'll see waypoint arrival times based on realistic sailing course and tidal effects, rather than a straight-line calculation.
Secondary autopilot controller

When connected to a B&G Pilot system, the Vulcan 9 acts as a secondary autopilot controller providing Intelligent Sail Steering, manual and auto steering functions, and Smart Manoeuvre functionality combined with intuitive menus for ultimate control.
Instrument Display

Integrate the Vulcan 9 with your onboard instruments to use the screen as a large, highly-visible instrument display. Create and customise single, dual and 4-way data page layouts.

Choice of Charts

Choose from C-MAP™, Navionics®, NV Digital™ or Insight charting options to make the most of your routing and planning.
Integrated Wi-Fi

Vulcan 9 features built in Wi-Fi allowing you to connect to the internet, via a marina or smartphone hotspot, and access the GoFree™ Shop where you can download charts and software updates direct to your display. You can also mirror the screen of your Vulcan 9 on a compatible smartphone or tablet, allowing you to view and control (tablet only) your chartplotter from virtually anywhere on your boat. This makes the Vulcan 9 an incredibly cost effective dual-station solution for smaller boats.
Smart NMEA 2000 networking

Easily and seamlessly connect essential kit for cruising and sailing such as sailing instruments, the B&G SonicHub marine audio server, ZG100 external GPS antenna, and DSC VHF Marine Radio. Vulcan 9 gathers data as you sail, ready when you need it.
Broadband Radar™

Add B&G Broadband 3G™ or 4G™ Radar to keep watch as you sail, with the ability to identify and track targets from 36 nautical miles away (4G) to right off the bow. Cruise safely through crowded harbours, avoid obstacles in poor visibility, and keep an eye on distant storm cells all from your Vulcan 9 display.
ForwardScan™

Add an optional ForwardScan™ transducer to see what lies ahead under the water with approaching depth information. Explore poorly-charted or unfamiliar waters confidently with a clear image of the bottom ahead of your boat.
Specifications


Display Size: 9 inch Widescreen


Display Resolution (pixels): 800 x 480


GPS: Built in 10Hz


Operating Temperature: -15 to +55 Deg C


Waterproof Standard: IPX7


Dimensions (mm): 243W x 83D x171H


Weight: 1.32 kg


Power consumption: 12W @13.8V


Power Supply: 12V DC


Ports: NMEA2000, Radar, Sonar


In the Box


Vulcan 9 FS


Bezel


Gimbal Mounting Bracket


Dash Mounting Kit


2m Power Cable


Suncover


Documentation


Videos
Availability
Stock Availability
This item is currently not in stock but is available to preorder, with a lead time of up to 14 days.
Due to Covid-19, our store staff are working a reduced rota. As such we won't be offering our ship to store service until our stores are back to full capacity.
This item is currently only available to buy online.
Size Guide
Men's Size Guide
| | To Fit Height | To Fit Chest |
| --- | --- | --- |
| X SMALL | 5'2" - 5'4" | 34 - 36" |
| SMALL | 5'5" - 5'7" | 36 - 38" |
| MEDIUM | 5'7" - 5'10" | 38 - 40" |
| LARGE | 5'11" - 6'1" | 41 - 43" |
| X LARGE | 6'1" - 6'3" | 44 - 46" |
| X LARGE | 6'3" - 6'5" | 46 - 48" |
Shoe Sizes
| UK | EURO | MENS US | LADIES US |
| --- | --- | --- | --- |
| 3.5 | 36 | | 5.5 |
| 4 | 37 | | 6 |
| 4.5 | 37.5 | | 6.5 |
| 5 | 38 | 5.5 | 7 |
| 5.5 | 38.5 | 6 | 7.5 |
| 6 | 39.5 | 6.5 | 8 |
| 6.5 | 40 | 7 | 8.5 |
| 7 | 40.5 | 7.5 | 9 |
| 7.5 | 41.5 | 8 | 9.5 |
| 8 | 42 | 8.5 | 10 |
| 8.5 | 42.5 | 9 | |
| 9 | 43 | 9.5 | |
| 9.5 | 44 | 10 | |
| 10 | 44.5 | 10.5 | |
| 10.5 | 45 | 11 | |
| 11 | 45.5 | 11.5 | |
| 11.5 | 46.5 | 12 | |
| 12 | 47 | 12.5 | |
| 12.5 | 47.5 | 13 | |
| 13 | 48 | 13.5 | |
| 14 | 50 | 14.5 | |
Delivery & Returns
Delivery
Due to curent events Force 4 Mail order are running as normal, but due to staff shortages we have turned off Next Day Delivery
Our Mail Order team ship chandlery, yacht parts and sailing clothing around the world. We use the best value couriers available, and we will endeavour to get your products to you as quickly and as cost effectively as possible.
UK Standard Delivery
UK Mainland 0 - 1Kg (small jiffy) £3.95 Royal Mail Service 3- 5 working days
UK Mainland 1 - 25Kg £5.95 Courier service with signature 3- 5 working days
UK Mainland 25Kg+ Price on request
UK Mainland Next Day 0 - 25Kg £9.95 Courier service with signature
Northern Ireland, Highlands & Islands 0 - 1Kg (small jiffy) £3.95 Royal Mail Service 3- 5 working days
Northern Ireland, Highlands & Islands 1 - 20Kg £9.95 Courier service with signature 3- 5 working days
Northern Ireland, Highlands & Islands 20Kg+ Price on request
Channel Islands 0 - 1Kg (small jiffy) £5.95 Royal Mail Service 3- 5 working days
Channel Islands 1 - 20Kg £13.50 Courier service with signature 3- 5 working days
Channel Islands 20Kg+ Price on request ​
UK Exceptional Delivery
UK Mainland; Antifoul & paints £5.95
UK Mainland; Inflatable dinghy £10.00
UK Mainland; Liferafts £15.00
UK Mainland; Flares £20.00
Northern Ireland, Highlands & Islands; Antifoul & paints £9.95
Northern Ireland, Highlands & Islands; Inflatable dinghy price on request
Northern Ireland, Highlands & Islands; Liferafts price on request
Northern Ireland, Highlands & Islands; Flares not available to ship at this time
Channel Islands; Antifoul & paints £13.50
Channel Islands; Inflatable dinghy price on request Channel Islands; Flares not available to ship at this time
For further delivery information click here.
Returns
Standard Returns
If you are not entirely happy with your purchase, we will exchange or refund your goods in full, provided that the items are returned within 14 days of receipt.*
Please check the condition of goods on arrival - we are unable to accept goods damaged during shipping after 14 days.
Returned goods must be packaged securely, with all original packaging undamaged and in a saleable condition i.e. shoe boxes must be in the same condition as when received.
Goods must be unused and security seals intact.*
If you would like to return goods because they were ordered incorrectly or if clothing does not fit, return postage will be at your expense. If you would like us to replace the goods with another size or colour, we will charge carriage on the replacement.
Please be aware that some navigational and safety products may be dated, and as such a full refund may in some cases not be possible. If you are purchasing dated navigational charts we suggest you contact us for more information.
Faulty Goods
If you receive your goods and believe them to be faulty, please contact us straight away with a brief description of the problem. If we require you to return the product for a replacement, we will send you a pre-paid Royal Mail label for delivery back to us. Unfortuantely we cannot send the courier back to collect the items.
Returning goods to Force 4 is easy!
Please contact us by ringing 0345 1300 710 or email on returns@force4.co.uk. This way we'll be able to determine whether you would like to return the product for a refund or whether you'd like to exchange the product. We are unable to process the return of faulty goods that we're not expecting.
We'll then give you a returns number. This returns number will need to be clearly marked on the outside of your parcel so it can be identified on arrival. Please note, failure to mark a returns reference number on the outside of your parcel may result in a delay in processing your return.
Don't forget your proof of postage, just in case!
Once we receive the item we'll be able to proceed with a refund or an exchange.
*this excludes faulty goods with manufacturers defects. If goods are found to be faulty during use, after the returns period, please just give us a ring on 0345 1300 710 and we'll be happy to help.
Stock Alert
Please alert me via email when this product is back in stock.
Men's Size Guide
| | To Fit Height | To Fit Chest |
| --- | --- | --- |
| X SMALL | 5'2" - 5'4" | 34 - 36" |
| SMALL | 5'5" - 5'7" | 36 - 38" |
| MEDIUM | 5'7" - 5'10" | 38 - 40" |
| LARGE | 5'11" - 6'1" | 41 - 43" |
| X LARGE | 6'1" - 6'3" | 44 - 46" |
| X LARGE | 6'3" - 6'5" | 46 - 48" |
Shoe Sizes
| UK | EURO | MENS US | LADIES US |
| --- | --- | --- | --- |
| 3.5 | 36 | | 5.5 |
| 4 | 37 | | 6 |
| 4.5 | 37.5 | | 6.5 |
| 5 | 38 | 5.5 | 7 |
| 5.5 | 38.5 | 6 | 7.5 |
| 6 | 39.5 | 6.5 | 8 |
| 6.5 | 40 | 7 | 8.5 |
| 7 | 40.5 | 7.5 | 9 |
| 7.5 | 41.5 | 8 | 9.5 |
| 8 | 42 | 8.5 | 10 |
| 8.5 | 42.5 | 9 | |
| 9 | 43 | 9.5 | |
| 9.5 | 44 | 10 | |
| 10 | 44.5 | 10.5 | |
| 10.5 | 45 | 11 | |
| 11 | 45.5 | 11.5 | |
| 11.5 | 46.5 | 12 | |
| 12 | 47 | 12.5 | |
| 12.5 | 47.5 | 13 | |
| 13 | 48 | 13.5 | |
| 14 | 50 | 14.5 | |